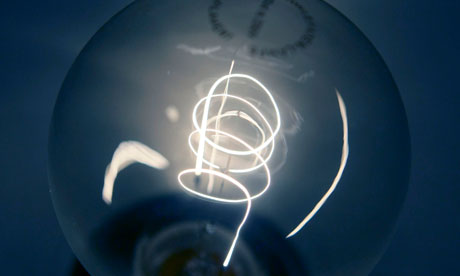 Facts About the Incandescent Light Bulb Law
New efficiency standards mean we're changing the way we light our world for the better.
Understand your options.
Lighting choices are changing between 2012 and 2014 in favor of options that use less energy
Between 2012 and 2014, standard 40- and 100-watt incandescent light bulbs must use 30% less energy to meet minimum efficient standards. What does it all mean?
What are the alternatives?
There are many no-compromise, energy-efficient options that fit your fixtures and provide the light you need.
---
GE energy smart
®

CFLs

GE energy smart

®

CFLs are a common energy-efficient replacement option. With GE energy smart

®

bright from the start™ bulbs, there's even a CFL that achieves instant brightness the moment you flip the switch.
---
GE energy-efficient soft white
GE energy-efficient soft white offer the closest alternative to traditional incandescent bulbs.
---
GE energy smart
®

LEDs

GE energy smart

®

LEDs provide a highly energy-efficient and long-lasting lighting solution.

* Based on three (3) hours use per day.
These bulbs use less energy but some provide less brightness. See package for details.
http://www.gelighting.com/LightingWeb/na/consumer/inspire-and-learn/lighting-legislation/
Phase-out of incandescent light bulbs
Governments around the world have passed measures to
phase out incandescent light bulbs
for general lighting in favor of more energy-efficient lighting alternatives. Phase-out regulations effectively ban the manufacture, importation or sale of
incandescent light bulbs
for general lighting. The regulations would allow sale of future versions of incandescent bulbs if they are sufficiently energy efficient.
Brazil and Venezuela started the controversial phase-out in 2005,
European Union
, Switzerland,
[1]
and Australia
[2]
started to phase them out in 2009.
[3]
Likewise, other nations are implementing new energy standards or have scheduled phase-outs: Argentina,
[4]
and Russia in 2012, and the United States, Canada,
[5]
Mexico, Malaysia
[6]
and South Korea in 2014.
[7]
and the
Lighting Legislation
The Phase-Out of Inefficient light bulbs
Inefficient light bulbs are being phased out and being replaced by energy saving lamps. Energy saving lamps are not just traditional Compact Fluorescent Lamps (CFLs) but include energy saving version of halogen, linear fluorescent and even LEDs:-
Compact fluorescent lamps (CFLs): these are the most common energy saving light bulbs and come in stick shape, candle shape, small or medium screw and bayonet fittings

Energy saving halogen light bulbs: a good option if a consumer already has halogen lights in their home. They consume around 30% less electricity than standard halogen bulbs

LED lights: these have progressed rapidly in recent years and can now be used to replace existing halogen spotlights.The first LED lamps will be endorsed under the ESR scheme by April 2009.
http://www.thelia.org.uk/lighting-guides/lamp-guide/legislation/
全球白熾燈禁用時間表 (2009.01)
LEDinside 整理「全球白熾燈禁用時間表 (2009.01)」,本表格將不定期更新。
可替代白炙燈泡的光源有很多,包括CFL螢光燈、LED照明光源、OLED照明光源等等。隨著各國陸續停止生產、禁用白炙燈泡,其他替代照明的普及度會慢慢提高,並依據光源的屬性和特點,在不同的領域中享有優勢。
http://www.ledinside.com.tw/knowledge/20090109-8979.html